Laos Dam Investment Monitor (LDIM)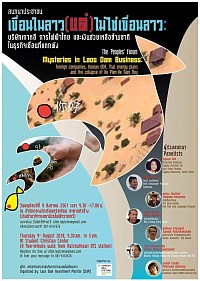 About us
Laos Dam Investment Monitor (LDIM) is the network of people/citizen who is interested in the issues related to large-scale hydropower dams and Lao PDR in particular. The network established on the 28th of July 2018, five days after the incident of the Xe Pian-Xe Namnoy Dam collapse in Lao PDR. The network contains activists and individuals from different backgrounds ranging from local community people, students, academics, and the activists at the national, regional, and international level who mostly base themselves in the countries with the actors that are involved with the hydropower businesses in Laos. LDIM's associate members also come from countries with large-scale hydropower dams with a good awareness of the impacts of the dams. 
Presently in Laos PDR, the Mekong mainstream and her tributaries are mostly full of hydropower dam projects and plans. LDIM members are interested in the investment and investors on Laos dams, their ideologies, and their operations. The actors we are studying are including private companies, commercial banks, and the government of the countries that provide support to the projects. LDIM also studying the regional and national energy plans, and the operation of the energy authorities of the neighboring countries in Laos, especially the Thai energy authority. 
LDIM studies, analyses, and advocates on the above issues with the hope to invite more open discussion that base on the facts from the groups with knowledge, experiences, and awareness on the impacts of hydropower dams to such countries as Laos and also to the region as a whole. By listening to the voice of the people on the ground, reflections from the public, the investors and actors involved in the Laos Dam business should be able to pay more attention to the people' livelihood, rivers, a natural resource that, although located within one country, can also affect to the riverine resources and livelihood of the people in the neighboring countries in the Mekong region.
LDIM works closely with the alliance task force in Korea, namely the Coordinated Response Team of the Korean Civil Societies for the Xe Pian-Xe Nam Noy Dam Collapse (Korea Task Force).
  Follow our activities and the weekly fresh news report by Laos Dam Investment Monitor at: